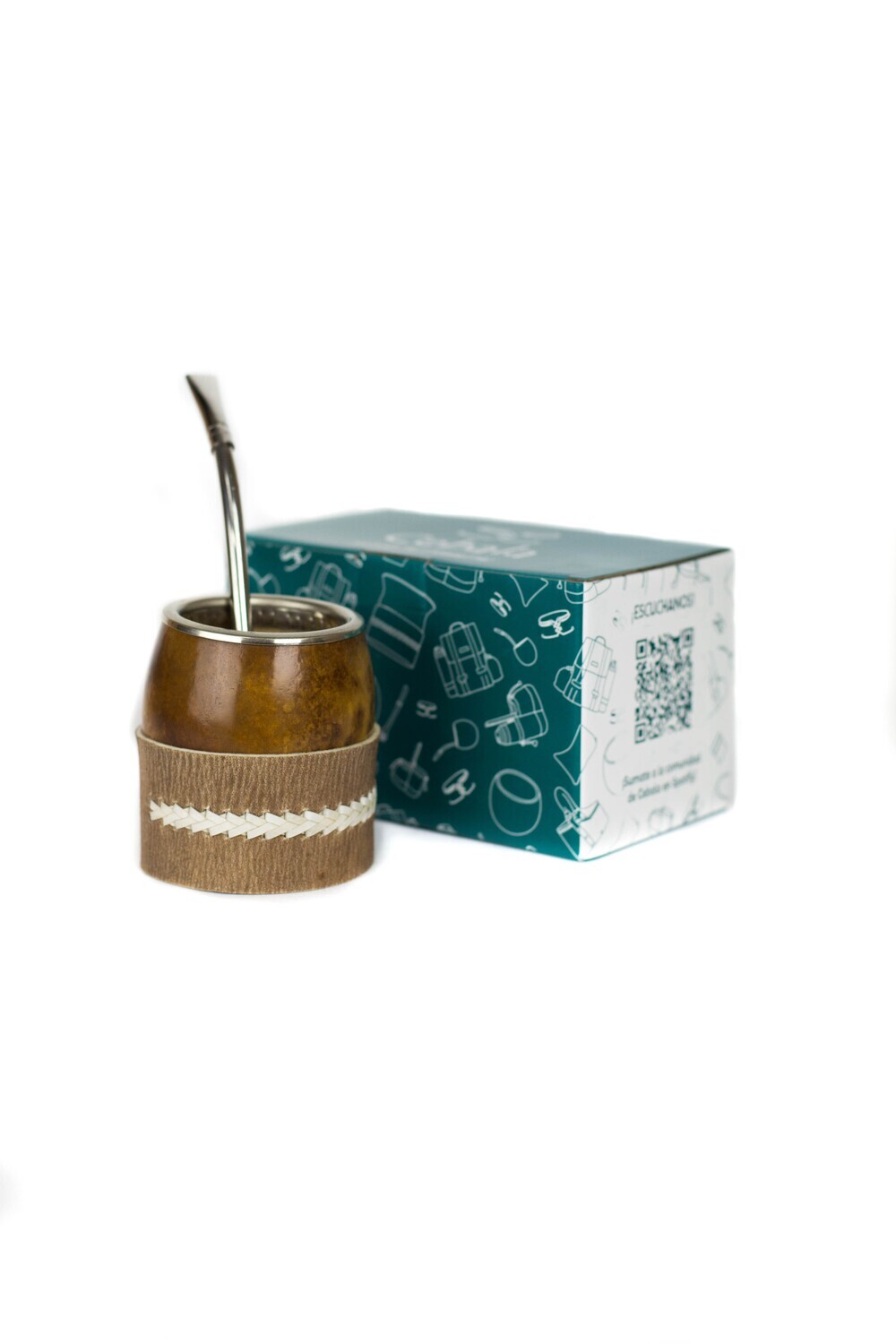 Combo 2
C0014
Product Details
This is made for a more sofisticated mate drinker. The mate has a beautiful alpaca ring in the surface which gives it a special touch.
The promo includes:
- Polished mate with an alpaca flat ring in its surface
This mate is the same as common mate to which a nickel silver nozzle is placed on top and it is polished on the outside. This model requires special work and time to place the nozzle. On the other hand, this alpaca applique protects the mate from falls or any possible crack.
The Gourd (mate tea cup) is the original way in which the Mate is taken, generally made from a kind of "pumpkin". Being made of a pumpkin its shapes and sizes vary a bit. For this same reason the Mate gourd must be cured, to seal the pores of the fruit so it doesn't give a bitter taste to the mate, in the case of the mate you will find the instructions for curing.
MEASURES - In general gourds are approximately the size of an average fruit (apple, pear or peach), some are a little bigger, some are a little smaller. It varies because they are natural. We have three possible sizes: small, medium and large... the main difference between them is whether it is for drinking alone or sharing and the period of time exxpected to drink (for instance, large size lasts for a whole day).
PERSONALIZATION- Logo/initials/names can be laser engraved by attaching your PDF at the time of purchase by only $200 extra. Keep in mind: if the file is not correct, there may be extra delays in shipping the product.
- Mate holder
A mate holder is a a very important piece that forms part of mate culture... a classic in Uruguay. It stabilizes the mate preventing it from falling. The mate holder makes the art of drinking mate much more confortable.
This product is made out of raw leather and braided in its center.
In case you want to buy it for a mate that you already have, remember to take into account the size (so that it fits accordingly), since this model cannot be adjusted. Anyway, it can always be changed!
- Classic alpaca bombilla
Our products are fabricated and welded in a whole piece out of stainless steel by uruguayan craftsman.
Nickel silver is an alloy of nickel, copper and zinc. Both nickel silver and stainless steel are noble materials that do not transmit flavors neither do rust. Both nickel silver, stainless steel and silver bombillas are durable materials that allow heat conservation and ensure that particles of the material are not ingested.
The spoon bombilla is the most versatile and can be used with any cut. When drinking Mate with Uruguayan yerbas, use a spoon bombilla. It measures 18 x 1 cm. We highly recommend to consider this when compared to the size of the mate you will buy or already have (half of it should be able to get in).
Save this product for later